We at The Alison Agency would like to dedicate this page to those interested in how The Alison Agency began and why the business is named The Alison Agency.
Alison McLaughlin created and was the first owner of The Alison Agency. Sadly, we lost her in 2005 at the age of 57 to a five year battle with cancer. She began her career in entertainment much earlier than when she founded The Alison Agency in 1990's. She was known by many as  Rocky Racoon, the mascot for the radio station 96 Rock here in Atlanta. She had a long run as the beloved mascot in the 70's when she first moved to Atlanta from Pittsburgh, Pa. Since the 70's, she provided many people with joy, happiness, and great laughs through her own love for life. She performed as many characters in her day such as the comedy characters: Madame Madelaine, Doris Bellamini: the Rough and Raunchy Truckstop Waitress, and Lucky DuJour.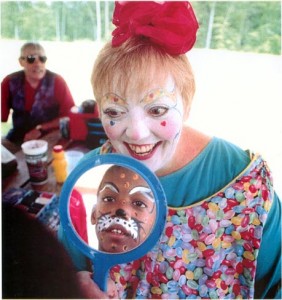 Alison was also known as Bubbles the Clown.
The children loved her. She had tremendous talent as a face painter, had a love for the theater and was a creative spirit in general. She was truly an inspiration to all around her and touched many lives throughout the time she was here with us.
Alison as the Fortune Teller: Madame Madelaine
The present owner, Kelly Cochran, had worked under Alison for a number of years before Alison's passing. Alison passed in October of 2005 and Kelly Cochran purchased the business January of 2006 in hopes of keeping Alison's legacy alive, providing entertainers with work and helping the clients create wonderful memories for their events. Kelly strives to uphold the same values, ethics, and client satisfaction that Alison was so conscientious of in her business.
To this day, Kelly still receives phone calls or runs into someone who knew Alison from "back in the day". Some people are unaware of her passing and some are aware. To say the least, both circumstances goes into a 45 minute to an hour conversation with the person on what an imprint Alison left in their life. She was a wonderful person and we miss her dearly.